COVID-19 Interview Process Update
Interview Process
To better follow CDC guidelines and recommendations, please follow our new recommended interview process. We look forward to meeting you and take safety very seriously. If you have been exposed to the coronavirus or have any symptoms, please notify our staff. Options to reschedule or remote conferencing can be made.
Onsite Interviews: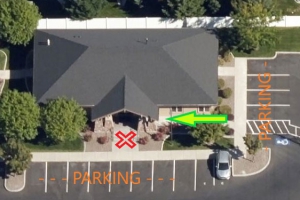 Interviews will be conducted between 2pm and 4pm Monday through Thursday outside of FLEXTECHS' building. If it is raining or cold, we will utilize the covered entry, otherwise we will setup chairs on the lawn. Candidates are encouraged to dress appropriately based upon the weather. Only bring copies of your resume or application for personal reference. Our staff will provide our own copy from a print off of the digital file you previously sent.
Remain in your vehicle in the designated parking locations. Do not approach the front entrance.
You will receive an SMS notification to the mobile number you provided when it is your turn to be interviewed.
Hand sanitizer will be made available to you in front of the building. Our staff will ensure your chair has been disinfected for your safety. We are excited to meet you as well but elbow bumps, high fives and hand shaking will not be necessary.
During the interview process, a minimum distance of 6 feet will be maintained at all times between you and the FLEXTECHS' staff.
Please note that our restrooms and building will not be available to the public during this time.
Remote Interviews:
For those who are unable to leave their house, we will consider doing a Skype or Zoom interview. Although an interview maybe held remotely, you must be able and available to work at a customer site.